Testimonials
---
Dear All,
Just to let you and Chef know that our June 21 dinner in the library was fabulous and flawless. All 19 of us had great fun!! We all declared that the hamburgers, salads and huge platter of succulent slices of chocolate cake were the best that anyone ever had before!!
And our dear granddaughter, Brynn Kearns so appreciated the gluten free food. and Kim the waitress was top of the line in serving us.
Thanks so much,
Anne and Bill Kearns
June 2019
---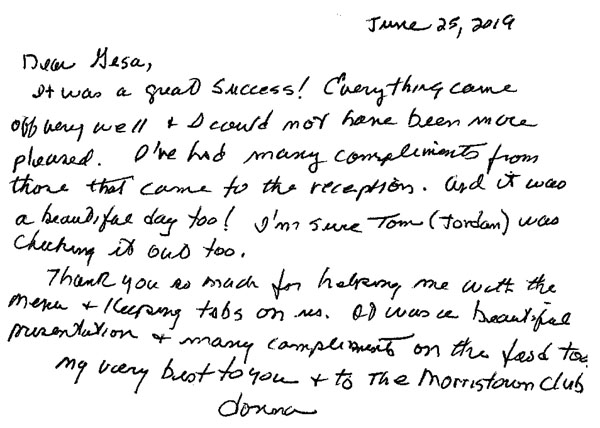 Donna Korkes
June 2019
---
Have heard rave reviews from everyone and per usual I agree. You all always go above and beyond. Thank you thank you for making me look amazing with minimal work on my part.
Stacey Valentine Fielding Partner



March 2019
---

The Morris Educational Foundation
February 2019
---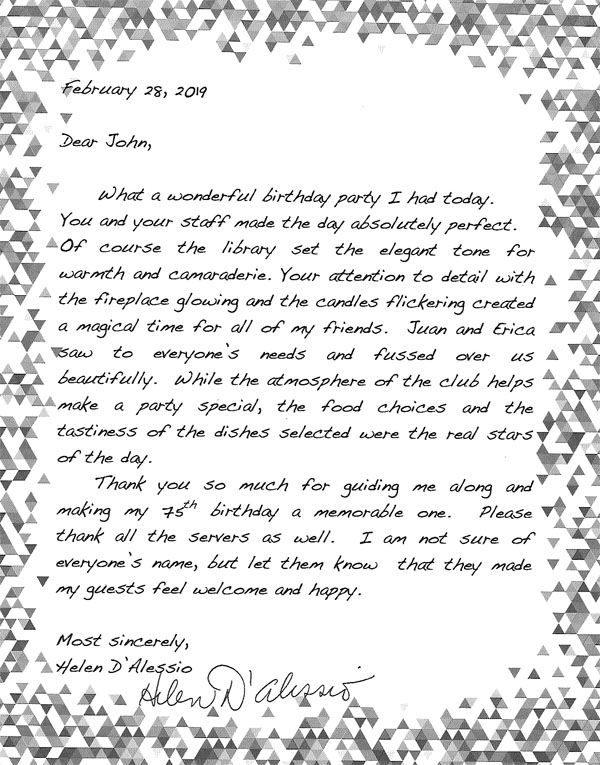 ---

February 2019
---
Thank you! We had a wonderful time and the venue was just perfect! Your team did an amazing job. We are having a networking event in March and look forward to working with you in the very near future!
Pamela L. Trunfio
Senior Administrative Assistant



January 2019
---
My thanks for making our celebratory dinner on Saturday evening the delight and success that it was. We all enjoyed ourselves, each other and our beautiful Morristown Club. Please extend our thanks to Penny. As always, she is so helpful and pleasant. Please also extend our thanks to our chef for preparing a delightful dinner. Truly, the Morristown Club is "a home away from home."
Bob Fredericks
November 2018
---
Thank you, Gesa, John, and all of the dear staff members at TMC for making our visits to the club a true pleasure. It's a joy to see all those beautiful/handsome smiling faces that make us feel so welcome and lucky to be a part of the TMC family. I like to think of TMC as the real-life, upscale version of 'Cheers' – the place where everybody knows your name. You make it a special place and we hope you know how special you are to us. Robert and I would like to take this opportunity to wish all of you a wonderful Christmas season and a happy, healthy, and successful New Year. We hope all your Christmas wishes come true.
Warmest Holiday Wishes,
Paula Green and Robert Casale
Decembert 2018
---
John
I just wanted to let you know what a wonderful job you and your staff did at my daughter's baby shower last weekend (Nov.3). I can't tell you how many compliments we received on everything from the delicious food ,the outstanding and friendly wait staff and the beautiful venue. Everything was perfect. I appreciate all the help you gave us in putting it all together. Thank you again!!!!!!
Chris Scaramelli
Allison Scaramelli
Nov 2018
---
Hi Gesa, Thank you so much for the wonderful job that John and the staff did for Christine's baby shower! It was exactly as we envisioned and everyone had a great time. Gary and "the boys" said the burgers were the best they have had! Please pass my thanks along to John and the staff for making the shower so special.
Diane Werner
October 2018
---
When I agreed to move our group to the second floor, I had failed to keep in mind the physical challenge for one of our members, who suffered a stroke a couple of years ago. But John rallied to his assistance, helping him get back downstairs, and using the lift on the first landing to get him back to street level. It was only one added gesture to help make our evening a very special event. We hosted a talented young classics professor from Seton Hall, who gave us incredible insights on the role the Classics can play in shaping young people, and the status of education in general, and the room, the food, and and the help from all of those involved made us very appreciative. I know it isn't easy, carrying everything by hand up that long stairway, but please make certain how much we all appreciated the extra effort.
Gene Shahan
October 2018
---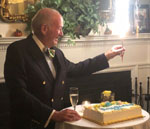 Doesn't he look pleased!! Thank you and all your Staff for a lovely evening. Our Family & friends had glowing praises for you all & the Morristown Club. Thank you for your patience and expert shepherding.
You make the process of giving a party a joyful endeavor. I am most appreciative of your talent and expertise.
Beth (Placke)
September 2018
---
Thanks John
You & your staff did a GREAT Job!!! Thank you for running another flawless event for me.
Carl Badenhausen
June 2018
---
Hi John:
We just wanted to say thank you for your help and the whole staff's help with the party on Saturday. I received many messages saying that people had a great time and that is due in part to all of you. rank and I had a great time as did the kids so the other room was a great idea for them.
Thanks again and we will wait to hear from you as to what the damage was!
Joette (Rosato)
May 2018
---
Thank you again for a WONDERFUL party- it was everything i wanted it to be and more! Everyone had a great time, and people asked both about dance lessons and joining the club... David and I are definitely interested in learning more. Thank you so so much for everything!!

Nancy (Medford)
March 2018
---
Much thanks and praise to John, Tom, Penny, Kelly, Doris and Gerardo- and if I left anyone out- my apologies! The party could not have been more perfect. Thank you and have a blessed Christmas and a wonderful Holiday!

Deb Nelson
Dec 2017
---
Hi Gesa--
Just wanted to thank you so much for arranging our beautiful luncheon! My guests (family) absolutely loved the food and the atmosphere. Your staff could not have been nicer and so professional - which we all appreciated.
Key lime pie was a hit! All the best to you and Happy Holidays.
Janice (O'Donnell)
Dec 2017
---
Hi John and Staff,
On behalf of the MPAC staff and volunteers, I'd like to thank you for all the hard work you and your staff put into our party last night. I thought it was delicious and on our end seemed flawless. That's a testament to a great staff! We could not be more pleased. I hope you all have a wonderful Holiday and a safe and Happy New year!!
Erin Pach
Senior House Manager & Volunteer Program Manager
Mayo Performing Arts Center
Dec 2017
---
Morning Gesa,
The event for my Aunt Irene Kane's 100th Birthday went off flawlessly. Everyone involved was warm and welcoming. Happy Holidays to you, Tracey
---
Dear Gesa,
Thank you again for all of your wonderful ideas for Tea with Santa!! The craft items were spectacular and so enjoyed by the children!! And Santa was even better than Santa! He was terrific! Great choice!
Thanks again so much for your valuable help!!
Anne Kearns
---
Dear John,
Thanks again for not only my birthday party, but also for a successful Tea with Santa!!
You moved it along just right and the attendees loved the whole event!!
Thanks always for your careful planning and for the lovely way that you work with our guests!!!
Anne Kearns
---
John,
Thank you & everyone at The Club for a truly fabulous party last night.
Everyone had a great time & dinner was yummy!!
Please especially thank Danny & Paula for staying so late!
Everyone had such a great time that they didn't want to leave!!
We feel so lucky to belong to such a wonderful club where you & the staff make us feel so special!!!
Adriane Shaw
---
Dear Gesa, John, Tom and staff,
The gala was wonderful. The club looked beautiful and the food was delicious.
Thank you for a delightful evening.
Gerry-Jo and Christian Cranmer.
---
2017 Wine Tasting Fundraiser
Operation Bling's Wine Tasting Fundraiser was a HUGE success! We had a sold out crowd of Bling Recipients, hospital representatives, Bling Groupies, friends, family and supporters of Operation Bling! Thank you to the Morristown Club for an elegant, flawless evening. We could not have done it without you. It was an absolutely magical evening!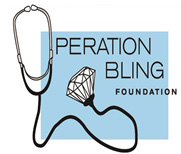 Christine & Bill Ferdinand
---
Mr. Kirby:
My wife Beth and I were at the Club for dinner about ten days ago, having been unable to get to the Club for a good part of the summer.
We were astonished and extremely impressed with the renovations that were completed, most especially the dining room and its aura. It is elegant!! I understand that, together with management, there was a committee of members that did the heavy lifting of design ideas, colors and the like. I am hopeful that you will convey our thanks to them for this immense effort.
Bill Placke
---
---
Gesa,
Just a quick note to thank you and the decorating committee on the OUTSTANDING job you did with the updates to the club. The changes are truly transformative and beautiful. Chef Tom showed me the new floor and stove in the kitchen and could not stop talking about how happy he was with the modifications.
Thanks again for a lovely evening.
Marisa (McGourty)
9/9/2017
---
Thank you so very much for organizing a lovely luncheon on behalf of Linnea's high school graduation. It was absolutely perfect - an elegant, yet relaxed atmosphere; delicious food; and a friendly, professional staff. Linnea enjoyed it immensely as did all of us. Given the world in which we live, it's not often that one can slow down and simply enjoy, visit and reflect. So, it was an absolute pleasure to do so, and to celebrate this special occasion in one of Morristown's gems. I only hope and pray we weren't too rambunctious, rearranging the tables for lunch! Thank you always for the memories of a lifetime. We will cherish them always! In the meantime, I hope you have the chance to relax and enjoy time with your loved ones this summer.
Warmest regards, Kerry B. Begley
July 2017
---
---
Dear John and Gesa, Fantastic? Excellent? Superb? Marvelous? Supreme? Where do I start to find the right word? Thank you so much for making Kate's shower so special! I had comments from ladies that it was the best they'd ever attended. Every detail was on point and we couldn't be more delighted. You guys are the best!
Lots of love, Janette (Carlucci)
June 2017
---
Dear John and Gesa,
Just wanted to tell you what a wonderful time we had at the Garden Party! You guys are amazing - you make everything look so effortless but yet I know it takes so much effort on your part. We all recognize your efforts and appreciate so much!!! Best event yet!!
Thank you again, L (Rys)
June 2017
---
Gesa & John-
Thank you both for another wonderful evening at The Morristown Club! The food was scrumptious, the drinks were delicious, and it was another perfect pairing at our table - everyone was lovely!
Carole Hoeg
June 2017
---
Jack and I just wanted to thank you for creating a wonderful wine pairing event last night. Everyone we spoke with agreed that it was a fabulous event. The food was outstanding and Jack thanks you for the creative substitutions.
The evening was a huge success!!
Marisa (McGourty)
April 2017
---
Hi John,
Many thanks to you and the club personnel for our party this past Saturday. Everyone was so complimentary about the club itself, the food, and particularly the staff. Everything was perfect.
Sharon Hansbury
November 2016
---
John & Staff,
Thank you so much for a wonderful evening last night. It went so smoothly and all the volunteers were very happy and FULL. You and your staff did an exceptional job in making everyone feel important and catered too. I hope you all have a wonderful Holiday!!!
Best,
Erin Pach
Senior House Manager & Volunteer Program Manager
Mayo Performing Arts Center
---
I want to let you know that Thanksgiving at the Club was simply outstanding. It really couldn't have been better. Have a wonderful holiday season!
Donna (McNamara)
---
---
---
---
Dear John & Gesa,
Just a note to thank you for all your help in making Paula's Birthday party a big success. Kudos to you and all the staff for the great food, attention to details and excellent service. Paula, our guests and I had a lovely time. We look forward to seeing you again.
Sincerely, Gordon Stuart
---
---
Hi Gesa,
Following the Revolutionary Times fund raiser on July 2nd,Marcia and I, Craig and Gretchen, Tom and Betsy (and others!) marched over to the Club for an impromptu dinner on very short notice.
We wanted to let you know that John, Doris, and Penny and the kitchen team did a wonderful job taking care of the crowd. The food was delicious and the service by John and the ladies was impeccable. I don't know how many notes of gratitude you and the staff receive but the staff made it a great evening and they deserve a special pat on the back. Please thank them as we will do so personally on our next visit.
Pete and Marcia Hunter
---
Thank you Gesa and John,
Thanks again for another spectacular event! Everyone was raving about the event, The Morristown Club, the staff and of course, the food too! You all take such good care of us and our guests! John and his staff make for a fun and flawless evening! THANKS SO MUCH!
All our love,
Chris and Bill Ferdinand
---
---
---
---
Our rehearsal dinner hosted at the Morristown Club was outstanding. The ambiance, hospitality and food was excellent; all attendees could not stop raving about their experience that night.
My husband and I feel fortunate that we were able to find the Morristown Club amongst other venues, as not being from the area we were handicapped!
I hope in the future, we might be able to recommend the Club to our friends from the greater Boston area, especially those who are members of our country club, The Weston Golf Club.
My best to you, John, Chef and staff. Continue the good work!
All my best,
Kathy Gibney
---
Dear John,
I want to thank you and your staff for Epsey's grand birthday party. All of our guests thought the food and service was superb. Epsey was thrilled to see so many family members and friends in such an elegant setting. Your help and advice helped make it possible.
Regards,
Don Weatherbee
---
Hi John and Gesa,
Thank you, thank you John and thank you to all of the staff at the Morristown Club who once again pulling off a magical and wonderful Operation Bling Foundation Wine Tasting Fundraiser! Bill and I certainly appreciate everything everyone there does for us! A great time was had by all!
Thank you again for everything everyone always does for Operation Bling!
---
All our love, Chris and Bill Ferdinand
June 13, 2015
---
Dear John and Gesa,
The Garden Party was absolutely lovely. Our guests were delighted. The food was excellent, especially the caramel cheesecake! All perfect, and thanks for arranging the splendid weather!
Best, Linda (Meister)
June 6, 2015
---
Dear John, Penny, Doris, Krista, Modesto and all other staff involved,
On Saturday, April 25, 2015, family and friends gathered at the Morristown Club for the celebration of my daughter's First Holy Communion. We were greeted warmly by the staff and every detail as was previously planned from hors d'oeuvres to table settings was in place. The staff took care great care of our family members and friends. The food prepared and served buffet style was outstanding! We had a delicious caprese salad with succulent tomatoes and fresh mozzarella. The Morristown Club's chicken francaise is absolutely delicious. Their vegetable bundles were wrapped beautifully, tender and divine. The roasted potatoes were very tasty. In addition to the wonderful food, the staff is to be commended for their outstanding service, from their kindness to their diligences. They went well beyond to tend to my family and friends. They even offered a tour of the club to interested guests. Overall, the event was such a success, that the comments and discussions that followed, confirm the Morristown Club as a sensation. We will plan future events with the club and want to thank all who participated! Look forward to seeing you for our next event.
Thank you very much, Wendy Bongo
---
I wanted to thank John and the staff who served me and my guests last Saturday for a wonderful evening. Food great, service great and the setting was most pleasant indeed.
Bill Placke
---
Good morning John,
It is a pleasure to let you know that the new relationship between The Morristown Club and The Rotary Club of Morristown is going quite well. The welcome we have received from your staff has been beyond expectations. The two things that were unknown going in were the quality of food and the service provided by your staff. We have been most pleased on both fronts. Your staff represents your club with total professionalism and courtesy. And the food is great. At our Assembly meeting on March 27, we had over 20 "guests" in attendance for the evening that are considering membership in your club. All were most impressed with how the evening played out, members and guests alike. Thank you, John, for all that you and your staff do to make us feel special. We are so pleased! And we thank you!
Warm regards,
Denny Morrison
Past President and Membership Chair
Morristown Rotary Club
---
---
---
John and Gesa:
Can't thank you enough for all that you did to ensure that the party for Erica and Phil was a success. We have had so many people tell us that they had such a great time and that the Club was spectacular! Food was everything we wanted and expected and then some! All the servers were professional and very courteous. Couldn't have asked for anything more. Again THANK YOU, THANK YOU, THANK YOU for making the event so worry free for us and for making us look so good! LOL!
Regards, Debbie Gottsleben (DeLaney)
---
We had a WONDERFUL event at The Morristown Club, and all our guests so enjoyed themselves! Thanks once again to you and to John Hoff for your flexibility in being able to open the club for lunch that day and close it for dinner for our party. This was a last minute change to accommodate two of our guests who were coming in from out-of-town, and we appreciated it. Best wishes for a Happy New Year. You all are the BEST!
Sincerely, Wade Kirby.
---
Hi Gesa, It was a really nice party. The club looked beautiful and the food was superb! Everyone loved it. John was really great with the details.
Thank you all. It was a memorable evening.
Kit Godby, Godby Realtors
---
Wanted to let you know that we had a wonderful time at burger night! The food was delicious. Our group had a variety of burgers and each one of us thoroughly enjoyed it. We were so glad to be able to come and enjoy the club in a relax atmosphere before our soccer game...incidentally we won! I especially loved how a table was set with all the toppings and a make your own salad.
Thanks again, Mindy Papetti
---
Thank you again for extending to my family the hospitality of the members and staff of The Morristown Club. We were delighted with the accommodations, the lunch, and the professionalism and warmth of your staff.
Regards, Clinton Ivins (Chip)
---
---
Alan,
I just want to say how happy I am that I joined the club earlier this year.
Everything has been simply first class. It is wonderful to take a step back in time when dining was special and you dressed for it. The staff has made it a great experience.
I cannot wait to come back again soon.
Thank you,
David Brown
---
At the end of Saturday evening everyone left the Morristown Club smiling! A grand time was had by all! A big thank you to John and his wonderful staff for a perfect evening! From the minute we started coordinating the event with John I knew we were in good hands. From his careful consideration of our needs to the recommendations he made regarding menu, logistics, and decor, no detail was overlooked. The dinner was fabulous and the service was impeccable. Comments from guests included "the best party I've evern been to," "The meal was outstanding," "the staff was so friendly," and "what a great place to have a party." Will we do it again? Of course, without question. Thank you all for making it so easy.

Vincent and Katherine Teti
---
Indeed the Easter Day Brunch was phenomenal, thank you!
Best,
Wade Kirby
---
Easter brunch was fantastic. Thank you for all that you do. I still can't get over the candy bar.
Nancy
---
---
Dear John and Gesa,
Marisa and I would to thank you for the efforts on behalf of our special dinner event. Your pre-event guidance and preparation really made it a special day for Marisa. Andrea and Doris were so welcoming and attentive to our guests, making us all feel quite at home. I know all involved will remember this dinner for a long time to come. Thanks again for all your efforts.
Best, Jack McGourty
---
---
---
---
Hi John,
I wanted to thank you for the wonderful job you did planning the Garden Party. Everyone in my family thought it was great. My sister said she felt like she
was in the Hamptons and was waiting for Ralph Lauren to walk in.
My grandson William asked me if this event happens every year. He wants to come again.
So all in all, congratulations to you and your staff, for a great evening.
Carolyn Schaefer
---
---
---
---
John,

My compliments to you and the staff for a wonderful party last night at the Morristown Club.
The food and service were top notch.

I appreciate the time and effort that everyone took to make our event such a success.
My in-box has been filled this morning from emails from my staff with their compliments!
Thank you again.

My warmest regards,
Nancy
Atlantic Corporate Health
---
---
Hi Gesa and John,
John Rathgeber, Chairman of Arch Reinsurance Company, held a Shakespeare Theatre event at the Morristown Club on December 11. The next day he told me that the event was perfect! The food, the service and the beautiful atmosphere all contributed to a great evening.
I mentioned John's comments to Tim Olson, the President and CEO of Arch Reinsurance Company. Tim agreed that the club does a wonderful job in all aspects of an event.
Arch Re is holding its holiday party next week at the Club for the 3rd consecutive year. Everyone at the Club has always been very accommodating and responsive. We all are looking forward to another fabulous evening!
Best regards,
Janet
---
Good Morning John
I just wanted to thank you, the staff and the chef for a wonderful holiday luncheon, everything was perfect! Hoping to see you again next year. Until then, wishing you and yours a happy holiday season and a happy, healthy prosperous new year!
Regards, Eileen
---
John, My thanks to you, our chef and your excellent staff for a superb job on Saturday. Truly it was excellent and enjoyable.
As usual, our great Club came through and we made some new friends.

Bob Fredericks
---
I wished to take this opportunity to convey my heartfelt thanks to the Club and the staff for the extraordinarily wonderful Annual Garden Party held recently. It was, in my view, the best food, service, and ambiance that I have ever experienced at a single event at the Club since my admission in 1984. My friends who were present that night echo my assessment.
And yes, the food was better than Roots, the ambiance surpassed Serenade and the service bested the Grand Cafe. Do the stay away members know what they are missing? Please continue with your new magical efforts.
Yours sincerely,
John Newman
P.S. The last time I wrote to the Club about my experiences there was in the last century.
---
---
---
---
Art Corwin said:
"As you know, I have only recently joined The Morristown Club and last night I held my first corporate event there. The evening worked out extremely well starting with cocktails and appetizers in the bar area, followed by an elegant dinner in The Library. The food was excellent and one of Moretrench's executives said the Chilean Sea Bass was the best he ever had. The service, of course, was outstanding. We accomplished what we set out to. Thank you, again. We will certainly be using The Morristown Club in the future for both our corporate and family events."